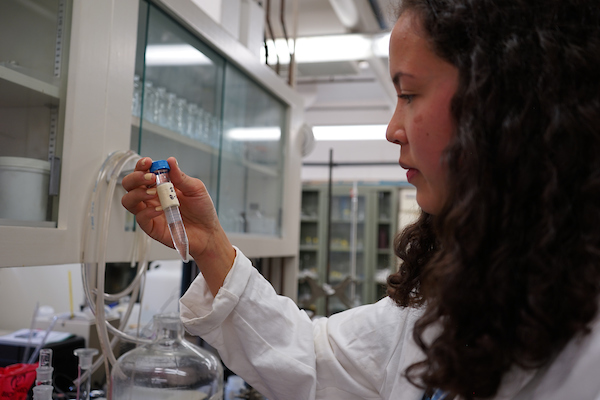 2019-20 Academic Year Fellowship Awards
The Center for Undergraduate Research is pleased to announce the recipients of the Research and Creative Activities Fellowships for 2018-2019 academic year. The fellowships were developed to enhance and increase undergraduate student involvement in faculty supervised research, and are supported through the Office of the Vice President for Research. Each fellowship provides a $1,100 award for the students to help cover costs of the project.
2019-20  Academic Year Research and Creative Activities Fellowship Award Recipients
(Student Name, Academic Program, Project Title, Faculty Mentor)
Megan Arsenault, chemistry, "Determination of Lactic Acid to Improve Quality of Biodegradable Polymers," advised by Brian Frederick.
Brianna Ballard, history, "The Presence of Black Sea Bass within the Archaeological Record and its Effects on Land Settlement Patterns," advised by Bonnie Newsom.
Jessica Beneski, zoology, "A Comparative and Genomic Analysis of Mammalian Bladder Phenotypes," advised by Danielle Levesque.
Olivia Bradstreet, fine arts, "Paper, Pulp, and Place: Investigating Connection Through Process Art," advised by Ronald Nadeau.
Cole Butler, mathematics, "Nodal Network Model of Zika and Chikungunya in Colombia," advised by Brandon Lieberthal.
Jacob Cote, microbiology, "The Role of Prophage in Mycobacterial Antibiotic Resistance," advised by Sally Molly.
Dominique DiSpirito, political science, "Testing the Waters of Natural Resource Management: A study on the management values of Acadia National Park's key stakeholders," advised by Katharine Ruskin.
Maddie Eberly, forestry, "Feedbacks Between Wood Structure and Function Driving Forest Tree Responses to Extreme Drought," advised by Jay Wason.
Natalie Harmon, Earth and climate sciences, "First Row Transition Element Analysis of Eclogites," advised by Alicia Cruz-Uribe.
Aldous Hofmann, botany, "Quantifying Leaf Structural and Morphological Variation in Wild Blueberries for Precise Management," advised by Yongjiang Zhang.
Patrick Hurley, ecology and environmental sciences, "Mites, Camera, Action: Assessing current varroa mite treatment trends for beekeepers in Maine," advised by Julia McGuire.
Miranda Jacques, biomedical engineering, "An Array of Synthetically Produced Fluorescent Biomarkers for Monitoring Neutrophil Behavior in the Non-Specific Immune Response," advised by Matthew Brichacek.
Marissa Kinney, microbiology, "Investigating the Potential Relationship Between Black Soldier Fly Larvae Reared on Potato Scrap Substrate and the Suppression of Gram-Positive Bacteria," advised by Edward Bernard.
Jordan Miner, biomedical engineering, "Imaging Zebrafish with Duchenne Muscular Dystrophy using Second-Harmonic Generation to Evaluate Myosin Structure," advised by Karissa Tilbury.
Noah Moring, business, "The Effective Marketing of Products, Services, and Events towards College Students," advised by Stefano Tijerina.
Leigh Neptune, food science and human nutrition, "Nonverbal Displays of Pride and Shame in LGBT Populations," advised by Mollie Ruben.
Abigayl Novak, ecology and environmental sciences, "Investigating the Environmental Impacts of Abscisic Acid Levels in Soybean Drought Response," advised by Yongjiang Zhang.
Shannon O'Grady, animal and veterinary sciences, "Predictors and Impacts of Haemosporidian Parasite Infections in Barn Owls (Typo alba)," advised by Pauline Kamath.
Sophie Palangas, communication sciences and disorders, "Assessing Health Related Quality of Life, Language Impairment, and Psychosocial Factors in Post-Stroke Aphasia," advised by Christopher Grindrod.
Olivia Reese, media studies, "Speak Softly and Carry A Selfie-Stick: Understanding risk in selfie-behaviors in National Parks," advised by Judith Rosenbaum-Andre.
Anna Schumann, molecular and cellular biology, "The Role of BPs' gp33 Immunity Repressor in the Downregulation of M. Chelonae Genes," advised by Sally Molloy.
Samuel Varga, finance, "How Speculative are Different Sectors of the Stock Market?" advised by Grant Miles.
Michelle Ward, psychology, "Influence of Personality Differences on Dementia Caregiver Burden," advised by Fayeza Ahmed.
Ben Williams, biochemistry, "Enteric Microflora Dysbiosis: Impact on sleep fragmentation, and mild cognitive impairment in aging adults," advised by Marie Hayes.