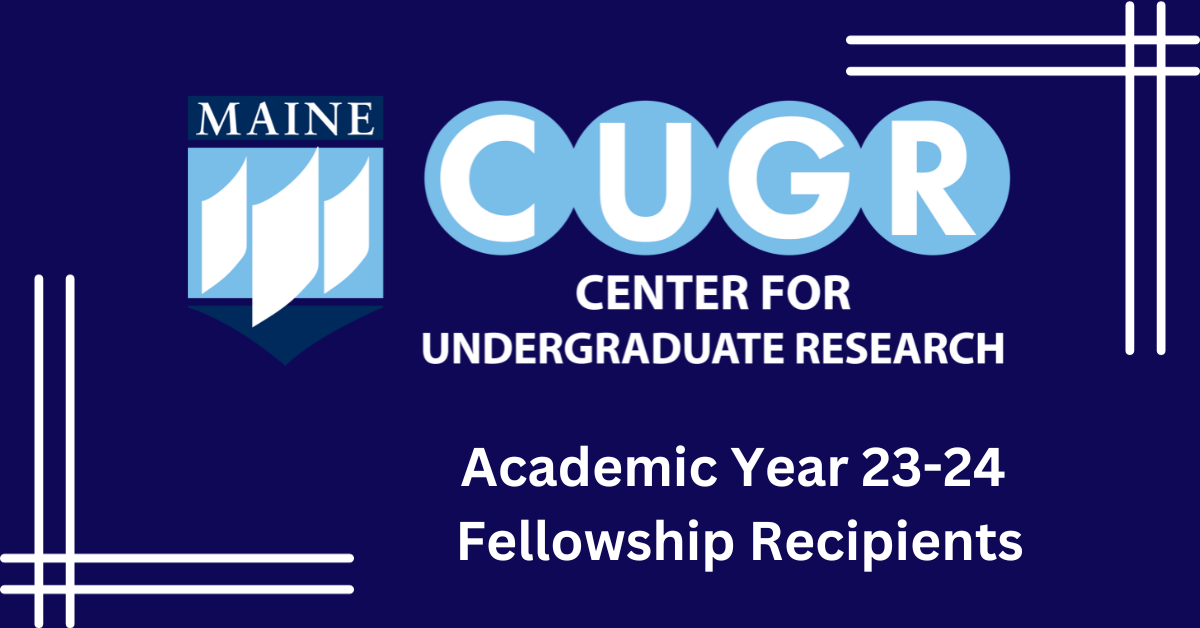 CUGR Announces Academic Year Fellowship Recipients
The University of Maine's Center for Undergraduate Research (CUGR) has announced the 2023-24 CUGR and Maine Space Grant Consortium (MSGC) academic year fellowship winners. 
The CUGR Research and Creative Activities fellowships were developed to enhance and increase undergraduate student involvement in faculty-supervised research and are supported through the office of the Vice President for Research. Each fellowship provides $2,000 per student for costs associated with the project. 
The 2023-24 Academic Year MSGC Undergraduate Research Fellowship awards help provide research opportunities to undergraduate and graduate students in aerospace technology, space science, human exploration and space development, Earth science and other science- or engineering-related fields. The focus of proposed projects funded by the fellowships must be aligned with the research priorities of NASA's Earth and space science strategic enterprises. Selected projects will be awarded up to $2,000 each.
Students interested to learn how to write successful research proposals, and receive their responsible conduct of research are encouraged to sign up for the INT 125 course this Spring and participate in Experiential Programs Innovation Central (EPIC). For more information visit umaine.edu/epic
This year's recipients are: 
2023-24 Academic Year CUGR Research and Creative Activities Fellowship
Abida Abida, Marketing and Finance, "A Maine Equity Index: How have Maine Stocks Fared over Time? Performance and Characteristics," Sebastian Lobe
Wilder Baldwin, Computer Science, "I

nferring

and Generating Privacy Design Solutions for Personally Identifiable Information Pre-Development," advised by Sepideh Ghanavati

Sean Carey, Psychology, "An Exploration of Factors Impacting the Associations Among Cognitive Performance, Education Level, And Depressive Symptoms," advised by Michael Robbins
Hope Carroll, Communication, "Instructor communication and first year students' success and sense of belonging in the classroom," advised by Liliana Herakova
Daniela Chavez de Paz Solis, Biology, "The Role of Fatigue Regeneration in Disrupting Regeneration Mechanisms in Congenital Muscular Dystrophy," advised by Clarissa Henry
Rachel Coombs, Biomedical Engineering, "Exploring The Impacts Of Gendered Anthropomorphized Artificial Intelligence On User Trust In Fully Autonomous Vehicles," advised by Paul Fink
Erika Hipsky, Psychology, "Underrepresented, or over?: An integrative analysis of viewbook messaging to women in STEM," advised by Amelia Couture Bue
Elliott Hooper, Biology, "Regarding Gender in Medical Education: An Analysis of the Limitations Enforced by the Gender Binary in Medical Education," advised by Liliana Herakova
Brenna Jones, Sociology, "Understanding the Socioeconomic Barriers Facing Precariously Housed and Unhoused Individuals," advised by Ryan LaRochelle
Abigail Miller, Sociology, "Investigating Alternatives to Jail Expansion," advised by Sarah Walton
Andrii Obertas, Physics, "Fractional Dimension Avalanches in Magnetic Nanostructures," advised by Nicholas Bingham
Kyra Pederson, Philosophy, "Shoveling Sand: A Descent Into The Sinkhole— A Phenomenological Account of Grief Objects," advised by Kirsten Jacobson
Elizabeth Walker, Communication Sciences & Disorders, "The impact of driving time on pediatric TBI follow-up visit attendance in a rural state," advised by Jessica Riccardi
Gwenivere Watkins, Earth and Climate Sciences, "Mobility Of Major And Trace Elements In Weathering Rinds Of Serpentinites," advised by Amanda Olsen
Henry Willard, Mechanical Engineering, "Tackling Leading Edge Erosion of Offshore Wind Turbine Blades: Accelerated Rain Erosion Investigation of Novel Fiber Hybrid Composites," advised by Amrit Verma
2023-2024 Academic Year CUGR Research and Creative Activities Fellowship (funded by Maine eDNA)
Carly Balfe, Marine Science, "Identification of heat stress in a soft coral by looking at the expression of Heat Shock Protein 20 and p450 in the soft coral Anthelia glauca Lamarck, 1816," advised by Ian Bricknell

Sarah Benner, Animal and Veterinary Science, "Efficacy of Adsorbents to Bind Per- and Polyfluoroalkyl Substances (PFAS) under in vitro Ruminal Conditions," advised by Juan Romero

Samuel Broadbent, Cellular and Molecular Biology, "Tissue-Clearing and Molecular Labeling of Early Axolotl Developmental Stages," advised by Prayag Murawala

Isabella Costa, Animal & Veterinary Science, "Evaluating The Effects Of Parasite Infections On Reproductive Potential In Maine Moose," advised by Pauline Kamath

Savanna Deer, Zoology, "Testing Heat Tolerance in Coral Zooxanthellae Symbiont Symbiodinium trenchii," advised by Erin Grey-Avis

Eyan Fennelly, Earth and Climate Sciences, "Genesis of antimony deposits in Carmel, Maine, USA," advised by Martin Yates

Jamie Fogg, Marine Science, "Beyond the shoreline: Investigating gray seal eDNA in coastal waters," advised by Kristina Cammen

Abigail Grunwald, Zoology, "Temperature And Energy Interactions In Small Tropical Mammals," advised by Danielle Levesque

Emily Hartmann, Marine Science, "The Movement of Nematocysts in the Nudibranch Berghia stephanieae," advised by Ian Bricknell

Strix Kugler, Biochemistry, "Using Genetic Engineering To Improve Drought Tolerance Of Potato Crops," advised by Ek Han Tan

Rollan Lemieux, Mechanical Engineering, "Experimental Study Of Thermal Performance Of A Solid-To-Gas Counter-Flow Heat Exchanger," advised by Justin Lapp

Oliver May-Fleming, Mathematics, "Inclusive Representation in College Advertising: A Content Analysis of College Viewbooks," advised by Amelia Couture Bue

Lilian Nowak, Animal and Veterinary Sciences, "Connecting The Dots: A Meta-Analysis Of PFAS Contamination In Domestic Animals," advised by Juan Romero

Keiara Pham, Wildlife Ecology, "Predation On Threatened Species: Diagnostic Bones To Inform Species Interactions," Christina Murphy

Alexander Pierce, Food Science and Human Nutrition, "Development of an Innovative Whey Protein Recovery Process Utilizing Seaweed Extracts," advised by Qing Jin

Jacob Pisani, Earth and Climate Sciences, "What Would It Take To Grow Glaciers On Mt. Washington?," advised by Alice Doughty

Emma Tomasetti, Marine Science, "Species identification of polychaete worms along the coast of Maine with a look at Polydora genus as it affects aquaculture oysters," advised by Paul Rawson

Karun Varghese, Computer Engineering, "Estimating Wild Blueberry Plant Health using Machine Learning Techniques," advised by Vikas Dhiman

Richard Viveiros, Ecology and Environmental Science, "Snow Springtail (Hypogastrura nivicola) anatomical details and biomechanics," advised by

Victor Ortega-Jimenez

 

Samuel Waggoner, Computer Science, "Creating Interpretable Deep Learning Models to Identify Species using Environmental DNA Sequences," advised by Chaofan Chen

Allison Weymouth, Biochemistry, "Antioxidant Effects of Yarrow Flower Extract," advised by Jennifer Newell-Caito
2023-2024 Academic Year CUGR Research and Creative Activities Fellowship (funded by Institute of Medicine)
Sydney Brown, Molecular and Cellular Biology, "Evaluation of calcium inhibitor drugs in JC Polyomavirus infection," advised by Melissa Maginnis
2023-2024 Academic Year CUGR Research and Creative Activities Fellowship (funded by Experiential Programs Innovation Central (EPIC))
Emily Hamby, Child Development and Family Relations, "Teacher Perspectives Post COVID, Amidst Anti-Woke Policies," advised by Rebecca Buchanan

Walter Lange, Economics, "Coastline in a Changing Maine: The Economics of Coastal Preference," advised by Caroline Noblet

Hannah Milne and Ersilda Cako,  Chemical Engineering and Computer Science, "SustainaVerse: A VR Experience Exploring the Impact of Climate Change through Decision-Making & Sustainability Awareness," advised by Richard Corey
2023-2024 Academic Year MSGC Research Experience
Sophie Dean, Communication, Sciences and Disoders, "Development and Pilot of an App-Based Ecological Momentary Assessment of Fatigue," advised by Jessica Riccardi

Adam Dugre, Engineering Physics, "Development of a Thin-Film Reactor for the Synthesis of Atomically Precise Graphene Nanoribbons," advised by Tomas Marangoni

Adam Elkadi, Biomedical Engineering, "Gauging Human Trust Through the Use of a Multimodal, Omnidirectional, and Immersive Autonomous Vehicle Simulator," advised by Nicolas Giudice

Augustus Hoy, Mechanical Engineering, "Novel Material Extrusion Process for Additive Manufacturing of Greensand Molds," advised by Philip King

Eric Mabry, Mechanical Engineer, "Advancing Metal Casting with Additive Manufacturing," advised by Philip King

Timber Mattson, Biochemistry, "Investigating the role of calcium regulators in mitochondrial stress and death," advised by Suzanne Angeli

Madison McCarthy, Chemical Engineering, "Assessment of Nanomaterials for the Removal of Siloxanes from Wastewater in Spacecrafts," advised by Onur Apul

Graham McLaughlin, Chemistry, "A Novel, Wasteless Method for Field Determination of BTEX in Water Samples," advised by Carl Tripp

William Poole, Electrical Engineering, "A Study Into The Fundamentals and Enhancements Of Solenoid Based Accelerators," advised by David Kotecki

Sarah Rogers-Pastio, Physics, "Unveiling Cosmic Mysteries: Modeling Early-Universe Magnetic Monopoles with Artificial Spin Ice," advised by Nicholas Bingham

Ethan Sherman, Earth and Climate Sciences, "Effect Of Topography On The Size Of Colombian Glaciers," advised by Alice Doughty

Arthur Smallidge, Electrical Engineering, "Automated Soil Irrigation Moisture Monitoring Sensor System," advised by Prabuddha Chakraborty

Jacob Wildes, Computer Engineering, "Automation of ROVs for Marine Life Inspection," advised by Vikas Dhiman