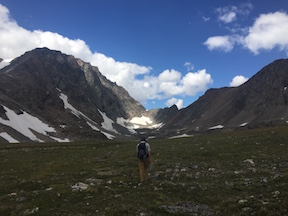 Interview with Andrew Nolan
June 7th, 2018
Class of 2019
Major: Earth and Climate Sciences
I spent this past summer studying glacier surge dynamics in the St. Elias Mountains, Alaska. Using remote sensing techniques relative surge areas and surface speeds were calculated for Bering and Turner Glaciers, from as far back as 1984 to present.
How you got started/interested in UGR?
This was my first experience in undergraduate research but I hope to continue to work in this field.
What advice do you have for those pursuing UGR?
Building connections and meaningful relationships with professors and other students in your department is an essential first step.
Where are you going from here (in terms of research, academics, occupations, etc.)?
I will be continuing my career as undergraduate here at the University of Maine. I am currently in the process of fnding continued funding for this current project. I hope to be able to continue this project through my career here at the University of Maine and use the dataset produced for my Honors Thesis.
How has CUGR effected your UG experience here at UMaine?
CUGR in conjunction with MSGC has been my frst experience in undergraduate research. It has been an incredible opportunity that I am very thankful for.
What beneft did working with a faculty-mentor on your research have on your overall experience?
The opportunity to work with Prof. Ellyn Enderlin and with M.S. student William Kochtitzky has been an unbelievable opportunity. Both are extremely knowledgeable within their feld and have provided great assistance and guidance along the way.