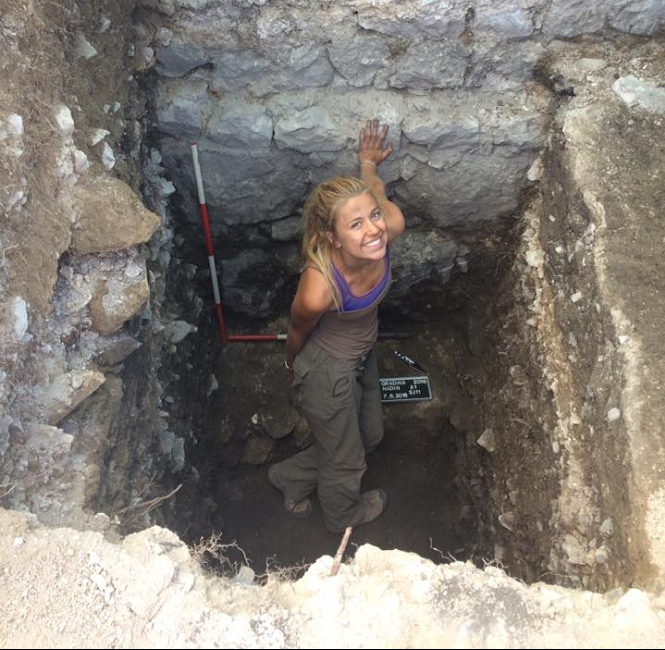 Anna Olsen
Class of 2017
Major: International Affairs with a concentration in Anthropology/Archaeology 
I will be finishing my undergraduate degree at the University of Maine and pursuing a masters in archaeology focusing on human activity and the deep impacts of our species and its various forms throughout our existence.
Area of Research: 
Archaeological research on the site of Nadin Gradina, Croatia. The site is rich in material remains dating back to the Iron age (prior to 1 C.E.) and holds the trail of consist human occupation since the Iron Age until present day.
How did this project get started with UG research?
The world of Archaeology is consistently completing the short and long term picture of human activity. In understanding the past, we can gain perspective into how the anthropogenic element has shaped not only our species, but the world's current ecology and climate. With global changes occurring today, understanding the past can lead us to understanding and building for the future.
What advice do you have for other UG students considering working on research?
When you find an area of research that stimulates your curiosity, take it and run with it! There is far more to discover in every field, and if you combine passion and education, the results are often quite successful.
How has CUGR effected your UG experience at UMaine?
CUGR has given wings to my education and allowed me to personally partake in the very discovery of history and thus given me an opportunity to have a voice in illuminating the impact and existence of humans on the Adriatic Coast. The ability to actively participate in such findings is an invaluable experience that has already helped direct my future academic course.
What benefit did working with a faculty-mentor on your research have on your overall experience?
Working with Dr. Zaro brought a depth to my experience that could otherwise have not been achieved. A big part of archaeology is to have the imagination and vision to see not what is, but what was based on what little remains. Working closely with faculty who possess such education and vision to allow for the most accurate truth, has been and will be priceless in my own speculations and intrigues into human past.