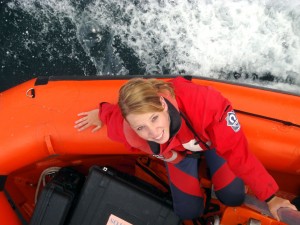 Dana Wright
 Dana Wright
Dana has a lot to say about undergraduate research, and that's because she has had many different experiences. The senior Marine Sciences major from Twin Falls, Idaho, recently completed an internship as part of the National Oceanic and Atmospheric Administration's Hollings Undergraduate Scholarship program. Through this scholarship, Dana completed a summer internship at the National Marine Mammal Laboratory (NMML) in Seattle, Washington with an acoustic team examining calls made by bowhead whales in the northern Pacific ocean near Barrow, Alaska. In the course of analyzing whale call data, Dana discovered that sometimes bowhead whales produce a call pattern not unlike that observed in right whales. This is a concern for acoustic researchers at NMML for the North Pacific Right Whale remains the most endangered baleen whale in the world. Dana's discovery has led researchers to question past data relying on this call pattern to identify right whales. Now, because of Dana's research, data collected in earlier years must be re-examined to look for the presence of both right and bowhead whales.
How did you get started with UG research?
Dana sought out opportunities through volunteering on projects, talking with professors, and pursuing national undergraduate research opportunities.
What advice do you have for other UG students considering working on research?
"Be proactive." "Do not be afraid to ask questions." Dana encourages students interested in research to be open to opportunities that may not necessarily be "exactly" what they are looking for. She says much can be learned from these experiences that can be applied to future research projects. When asked what her undergraduate research experience has provided, Dana stressed how it not only helped her see a life track she can pursue, but opened up other potential career avenues as well.
Dana is busily working on her Senior Capstone, using a new computer program to analyze the bowhead whale call data from her experience with NMML. She aims to graduate this spring and look for a work setting in which she can gain field experience. She has been invited to join the NMML in the summer of 2012 as a research assistant looking for the presence of bowhead and right whales in Alaskan waters. She is contemplating pursuing a Ph.D. in the field of marine mammals.