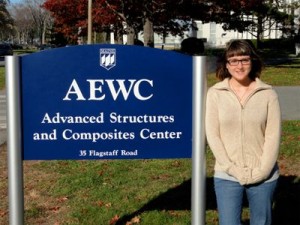 Celeste Lozier
Celeste Lozier
"Fantastic! I would not trade this for anything!" That's how Celeste describes her research experience. Celeste is a third year English major (Communication Sciences and Disorders minor) from Buxton, Maine who finds herself deeply involved in policy and communication research on offshore wind energy DeepCwind Consortium. Through an AEWC Advanced Structures and Composites Center summer internship that has expanded in to the Fall 2011 semester, Celeste is working with mentor Damon Hall, a post-doctoral fellow from the Sustainability Solutions Initiative. Their work involves examining the perspectives of the many constituents impacted by offshore wind energy. For example, Celeste has met with community members, fishermen, organizations (such as the Island Institute, and others to listen to their different concerns. She also attended the Energy Ocean International Conference held in Portland, Maine this past summer. There she witnessed the interaction of local, national and international representatives from virtually all sectors of the offshore wind industry. Celeste's efforts do not end there, however! She is examining the scientific literature, looking for published papers on offshore wind and public communication. Ultimately, the work will inform the public, the industry and policy makers.
How did you get started with UG research?
It all started with an email from her academic advisor, Charlsye Diaz, alerting Celeste to the AEWC summer internship opportunity. Celeste says, at first she was "hesitant to go into economics and engineering," but she quickly recognized the interdisciplinary nature of the work, and how she could tap into her strengths, and expand her skills.
What advice does she have for undergraduate students contemplating research?
Be open to opportunities, at any time in your college career. "Don't pass them up because you think you might not fit. Any experience is good experience!" In reflecting on what she has learned, Celeste stresses the importance of basic skills. "Research is a process of learning, conducting the process again and again. That's why it is called Research. Otherwise it would just be search."
Celeste is in the Honors College, and is looking toward her senior thesis in which she hopes to expand on all that she's learned from the research and combine communication and technical writing. In the more immediate future, Celeste will be studying abroad in Ireland at University College Cork in the Spring 2012 semester. Her interest in Study Abroad was inspired by a friend who had participated in the program. Celeste has been awarded a George J. Mitchell Scholarship, which will cover the costs of tuition and other expenses. Eventually, Celeste sees herself working in the publishing industry, perhaps serving as a "bridge between science and the public, because there needs to be more communication."